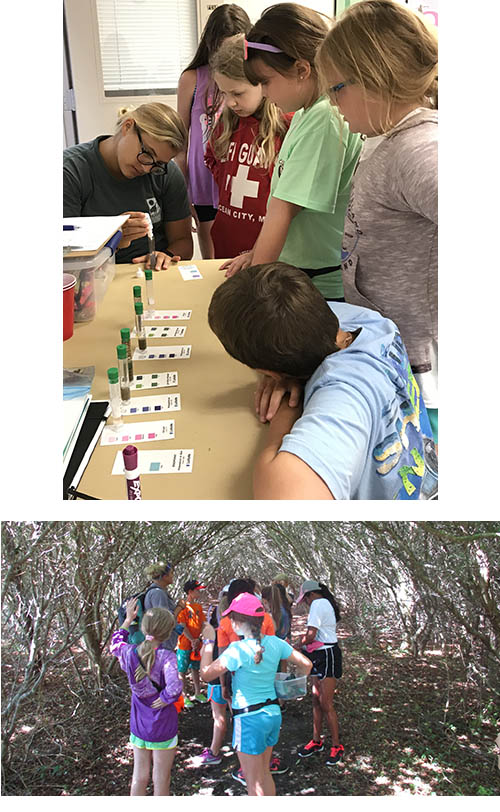 Are you ready for an exciting exploration of our local watershed?! This summer, the energetic staff of the Maryland Coastal Bays Program will be leading hands-on, educational activities in and around our coastal bays. Participate in engaging, outdoor investigations including seining, critter sampling, watershed studies, forestry and more! "Explorers" will get the chance to meet local scientists and take a walk in their shoes by adventuring through different watershed ecosystems. Each day of camp consists of multiple environmental activities and one team-building exercise.
WHO: Students entering grades 5 and 6.
DATES: Section A: June 25 -28, 2019
Section B: July 23 – 26, 2019
Section C: August 20 – 23, 2019
DAYS:  Tuesday – Friday
TIMES: 9:00am – 3:00pm
LOCALE: Camp will meet at Northside Park Recreation Complex each day.
PRICE: OC Residents $115.00/ Non-Residents $139.00
A 25% non-refundable deposit enrolls participant with balance due on first day of camp. Resident Deposit $28.75/Non-Resident Deposit $34.75
CAMP EXTRAS: Camp T-shirt, a certificate of completion, magnifying glass, nature journal and giveaways.
CAMPER NOTES: Explorers should bring water shoes, towel, sunglasses, refillable water bottle and sunscreen. A non-perishable lunch should be packed Tuesday through Thursday; pizza party on Friday. The maximum amount of participants is 12.