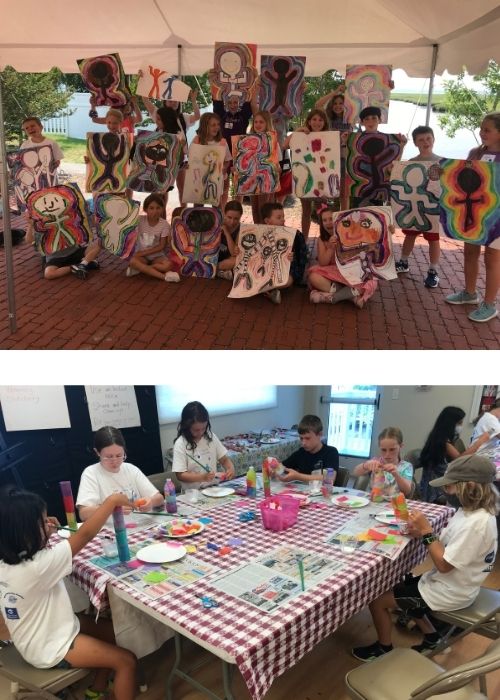 Kids can immerse themselves in creativity at Art Adventure Camp. Sponsored by the Art League of Ocean City, this camp is held at The Ocean City Center for the Arts on 94th Street. Art Adventure camp will offer a daily variety of art activities including drawing, painting, pottery, sculpting, jewelry making, mixed media and more. Lots of fun activities are planned as well as time for individual artistic expression. Led by experienced art teachers and professional artists, your child will have fun, while building artistic skill. Participants will receive a complimentary camp t-shirt.
Registration can be completed online or in-person at the Northside Park Main Office.
WHO: Kids, 6 to 14 years (must be entering grade 1)
DATES:
Section A: July 5 – 8, 2022**
Section B: July 11 – 14, 2022
Section C: July 18 – 21, 2022
Section D: July 25 – 28, 2022
Section E: August 1 – 4, 2022
DAYS: Monday – Thursday
**Session A: Tuesday – Friday (due to the July 4th holiday)
TIMES: 10:00 a.m. – 3:00 p.m.
LOCALE: Ocean City Center for the Arts, 94th Street & the Bay
PRICE: $192.00
*Ocean City resident discount price: $160.00
DEPOSIT: The appropriate deposit enrolls participant(s) with the balance due one week prior to the first day of camp. Resident Deposit $30, Non-Resident Deposit $40. Camp deposits are non-refundable.
CAMPER NOTES: Campers should report to the Ocean City Center for Arts at 502 94th Street (next to the tennis courts) each day for both check-in and check-out. Campers should also bring a non-perishable lunch and water bottle. Camp will end on Thursdays with a reception and show for parents at 2:30 p.m.