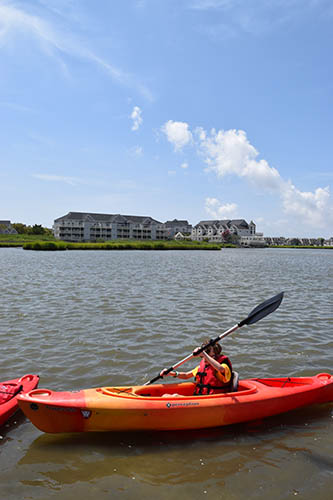 Learn the fundamentals of paddling kayaks on open water, in the Assawoman Bay, with an American Canoe Association (ACA) certified instructor from Best Aquatics. You will enjoy a leisurely paddle on flat water while experiencing the beauty of the Bay's aquatic life and wildfowl.
WHO: Everyone, 8 years and up
DATES: Section A: July 9 – 11
Section B: August 6 – 8
DAYS: Monday – Wednesday
TIMES: 11:00 a.m. – 1:00 p.m.
LOCALE: Northside Park Pier
PRICE: OC Residents: $100.00/ Non-Residents: $122.00
A 25% non-refundable deposit enrolls participant with balance due on first day of camp. Resident
Deposit $25.00/Non-Resident Deposit $30.50
CAMP EXTRAS: Camp T-shirt, certificate of completion and giveaways
CAMPER NOTES: All campers are required to wear water shoes during camp. Campers under 60 pounds should be accompanied by an adult