Under the direction of Bobby McAvan, former coach and player for the Baltimore Blast, this camp offers much to youth soccer players of all skill levels. Players receive instruction in both indoor and outdoor play, with the majority of play being indoors. The staff consists of proven pro-level and college-level players and coaches. Participants will receive a complimentary camp t-shirt and soccer ball.
Registration can be completed online or in-person at the Northside Park Main Office.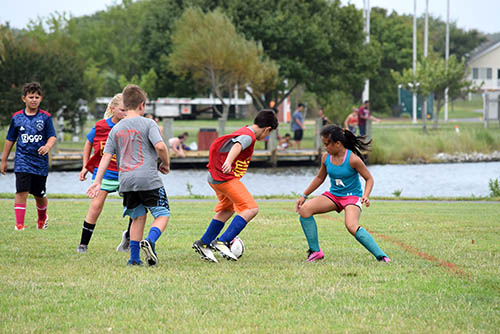 WHO: Kids, 6 to 14 years
DATES:
Section A; July 11 – 14, 2022
Section B: July 18 – 21, 2022
Section C: July 25 – 28, 2022
DAYS: Monday – Thursday
TIMES: 10:00 a.m. – 3:00 p.m.
LOCALE: Northside Park Recreation Complex
Check-in and check-out will be in the East Gym each day
PRICE: $162.00
*Ocean City resident discount price: $135.00
DEPOSIT: The appropriate deposit enrolls participant(s) with the balance due one week prior to the first day of camp. Resident Deposit $30, Non-Resident Deposit $40. Camp deposits are non-refundable.
CAMP NOTES: Campers should bring a non-perishable lunch and refillable water bottle each day of camp.  A majority of this camp is played indoors and indoor shoes are needed every day.