Under the direction of Bobby McAvan, former coach and player for the Baltimore Blast, For The Love of Soccer Camp has a lot to offer youth soccer players of all skill levels. Players receive instruction in both indoor and outdoor play, with the majority of play being indoors. The staff consists of proven pro level and college level players and coaches.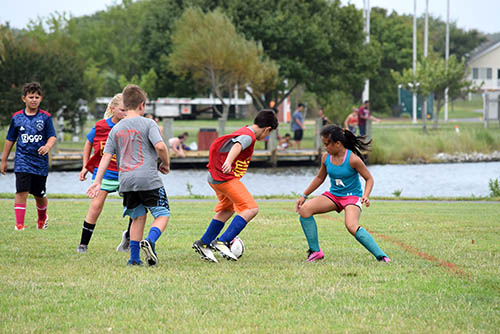 WHO: Kids, 6 to 14 years
DATES: Section A: July 8 – 11, 2019
Section B: July 15 – 18, 2019
Section C: July 22 – 25, 2019
DAYS: Monday – Thursday
TIMES: 10:00 a.m. – 3:00 p.m.
LOCALE: Northside Park Recreation Complex
PRICE: OC Residents $132.00/Non-Residents $159.00
A 25% non-refundable deposit enrolls participant with the balance due the first day of camp. Resident Deposit $33.00 /Non-Resident Deposit $39.75
CAMP EXTRAS: Camp T-shirt, soccer ball, certificate of completion, and giveaways
CAMPER NOTES: Campers should pack a non-perishable lunch for the first three days of camp; a pizza party is held on the last day. A majority of this camp is played indoors and indoor shoes are needed every day.