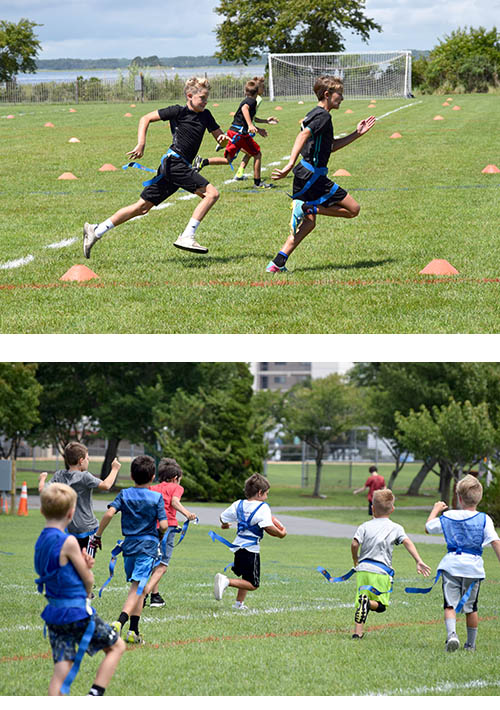 This 5-on-5 non-contact flag football camp is fast-paced, with drills and games designed for kids to have fun while learning basic skills. The Director, Coach Tom LaNeve, has been committed to youth sports for over 20 years. He has had an ongoing partnership with the 2012 Baltimore Ravens Superbowl Champions organizing and developing youth football camps. Tom has coached five NFL Flag National Finalists, has served on the advisory boards of Junior Goodwill Games, MLB's Diamond.
Skills Program and NFL Flag. Tom also officiated the Youth Flag Football Championship at the 2017 Pro Bowl!
WHO: Kids, 6 to 14 years
DATES: July 29 – August 1, 2019
DAYS: Monday – Thursday
TIMES: 10:00 a.m. – 3:00 p.m.
LOCALE: Northside Park Recreation Complex
PRICE: OC Residents $132.00/Non-Residents $159.00
A 25% non-refundable deposit enrolls participant with the balance due the first day of camp. Resident Deposit $33.00 /Non-Resident Deposit $39.75
CAMP EXTRAS: Camp T-shirt, football, certificate of completion, giveaways
CAMPER NOTES: Campers should bring a non-perishable lunch for the first three days of camp; there will be a pizza party on the last day. Indoor shoes are needed in case of inclement weather. (Cleats are optional.) All other equipment is provided.