Learn how to ride like a "pro"! Ride down a wave and maybe even learn some tricks!! Fabulous instructors from Endless Summer Surf Shop teach all there is to know about riding a bodyboard. The Ocean City Beach Patrol is also on hand to keep a watchful eye. Campers MUST be proficient ocean swimmers! Campers receive a complimentary Endless Summer Rash Guard shirt.
Registration can be completed online or in-person at the Northside Park Main Office.
WHO: Kids, 8 years and older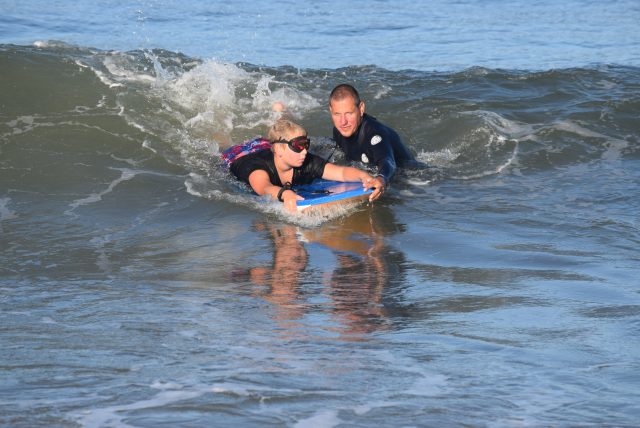 DATES:
*All camp sections are full. Please check out our website to view other available camp options. Register online to be placed on the Waitlist at no charge.
Section A: July 17 – 18, 2023
Section B: August 7 – 8, 2023
DAYS: Monday – Tuesday
(Wednesday – Thursday make-up if needed)
TIMES: 6:00 p.m. – 8:00 p.m.
LOCALE: Endless Summer Surf Shop (38th St)
Check-in and check-out will be at Endless Summer Surf Shop each day.
PRICE: $100.00
*Ocean City resident/property-owner discount price: $83.00
DEPOSIT: The appropriate deposit enrolls participant(s) with the balance due 10  days prior to the first day of camp. Balance due: Friday, July 7, 2023 (Section A) and Friday, July 28, 2023 (Section B). Resident Deposit $30, Non-Resident Deposit $40. Camp deposits are non-refundable. Camp balances paid in full are non-refundable 10 days before the start date of each camp.
CAMPER NOTES: Boogie Boards are provided for each camper. Parking is available in the Municipal Lot adjacent to the Ocean City Convention Center. Participants should bring a water bottle, towel, and sunscreen, and should wear beach attire such as a bathing suit and/or water shoes. A dry change of clothes is optional.