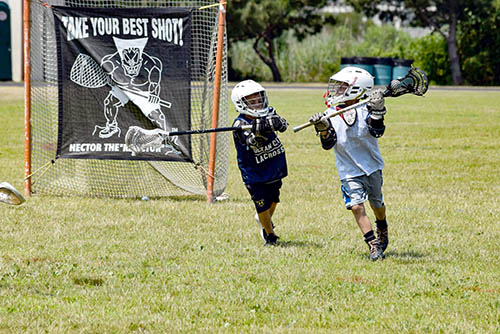 Campers will be organized by age and skill level in order to provide a unique experience for all. Beginner players will learn and practice skills through fun drills and games under the direction of high-level college coaches. Advanced players will be given detailed instruction on many of the game's intricacies while applying these lessons and drills during game play. Salisbury University Men's Lacrosse Head Coach Jim Berkman and his staff will help participants develop and refine their skills in shooting, passing, cradling, and much more! Participants will receive a complimentary camp jersey.
Registration can be completed online or in person at the Northside Park Main Office.
WHO:
Boys, 7 to 17 years
DATES:
July 5 – 8, 2021
DAYS:
Monday – Thursday
TIMES:
10:00 a.m. – 3:00 p.m.
LOCALE:
Northside Park Recreation Complex
PRICE:
$161.00
*Ocean City resident discount price: $134.00
DEPOSIT:
The appropriate deposit enrolls participant(s) with the balance due on or before the first day of camp. Resident Deposit $30, Non-Resident Deposit $40.
CAMP NOTES:
Bring your own equipment, if possible, including a mouth guard. Some equipment can be borrowed. Indoor shoes are needed in case of inclement weather. Campers should bring a non-perishable lunch each day of camp.