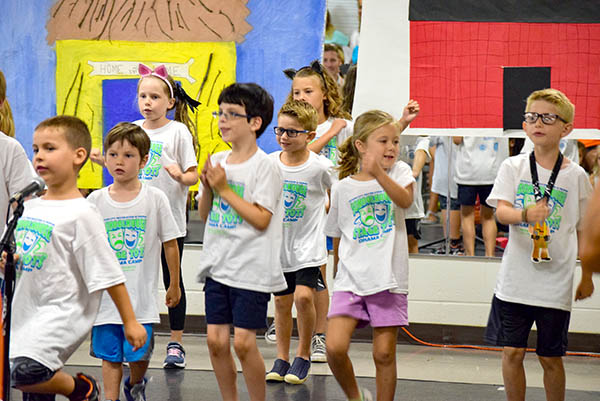 Per Governor Hogan's orders on May 29, 2020 on Youth Summer Camps only Maryland Residents are permitted in our camps at this time.
Learn to sing, act and dance. Schoolhouse Theater Arts, Inc. offers children the opportunity to perform a short, original musical production on the last day of camp complete with songs, lines and choreography. Campers will also learn drama skills such as pantomime, stage movement, and voice projection. All directors are Maryland Sate Certified Educators and boast over 60 years combined theatrical experience. Campers who would like to attend both sessions, two different plays will be offered. Participants will receive a camp t-shirt.
Registration can be completed in person, via mail, email or fax.
WHO:
Kids, 5 – 7 years
DATES:
July 27 – 30, 2020
DAYS:
Monday – Thursday
TIMES:
Session A: 10:00 a.m. – 12:00 p.m.
Session B: 1:00 p.m. – 3:00 p.m.
LOCALE:
Roland E. Powell Convention Center, 40th St. Coastal Highway
PRICE:
$77.00 per session
*Ocean City resident discount price: $60 per session.
Price for both sessions $159.00
*Ocean City resident discount price for both sessions: $132.00
A 25% non-refundable deposit enrolls participant with the balance due on the first day of camp.
CAMPER NOTES:
Pack a lunch & drink daily. There will be supervised lunch and recess for all-day campers. Online registration is not available for this camp. Call 410-250-0125 for registration information. Participants must be fully potty-trained. Sneakers are recommended. Parents are invited to attend a performance on the last day of cam (times TBA).
Daily temperature checks  & Health Screening may take place at check in.  Parents are required to wear masks during drop off and pick up.  We'd prefer only one adult drop off/pick up at a time.  Children over the age of 9 are recommended to wear masks when feasible.  Social and physical distance measures will be in place.  A COVID19 related participation waiver will be required to be signed by the start of camp.