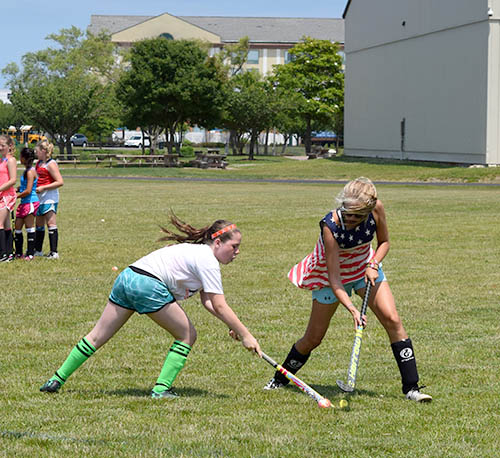 This camp is great for new players who want to learn the game and experienced players who want to build their skills. Learn the game of field hockey from a great staff with years of experience playing and coaching. Participants will learn through drills and games and will gain experience through scrimmages. Participants will receive a complimentary camp t-shirt.
Registration can be completed online or in-person at the Northside Park Main Office.
WHO: Kids, 8 – 16 years
DATES: June 20 – 23, 2022
DAYS: Monday – Thursday
TIMES:9:00 a.m. – 2:00 p.m.
LOCALE: Northside Park Recreation Complex
Check-in and check-out will take place at the West Lagoon Field. If it's raining, check-in will take place inside the West Gym.
PRICE: $162.00
*Ocean City resident discount price: $135.00
DEPOSIT: The appropriate deposit enrolls participant(s) with the balance due one week prior to the first day of camp. Resident Deposit $30, Non-Resident Deposit $40. Camp deposits are non-refundable.
CAMP NOTES: Campers should bring a non-perishable lunch and refillable water bottle each day. Equipment needed: stick, goggles, shin guards, and mouthguard. Campers need to bring sneakers in the event of poor weather and play is moved inside. There will be equipment available to borrow for the week if needed.