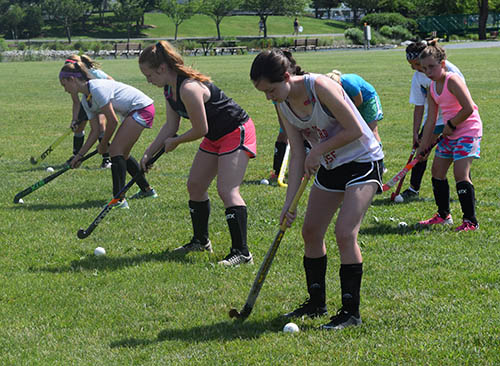 Come experience field hockey in Ocean City. Director Molly Chamberlin is the varsity coach of the Indian River High School Field Hockey team and the founder of the Indian River School District Field Hockey Camps. We are so excited she is bringing her coaching experience to Ocean City Field Hockey Camp! Children will be split up by age and skill level to learn the basics or build on their field hockey skills.
WHO: Kids, 6 –16 years
DATES: June 18 – 21
DAYS: Monday – Thursday
TIMES: 10:00 a.m. – 3:00 p.m.
LOCALE: Northside Park Recreation Complex
PRICE: OC Residents $130.00/ Non-Residents $156.00
A 25% non-refundable deposit enrolls participant with balance due on first day of camp. Resident Deposit $32.50/Non-Resident Deposit $39.00
CAMP EXTRAS: Camp T-shirt, certificate of completion and giveaways.
CAMPER NOTES: Campers should bring a non-perishable lunch for the first three days, there will be a pizza party on the last day of camp. Equipment needed: Stick, Goggles, shin guards and mouth guard.
There will be equipment available to borrow for the week if needed.