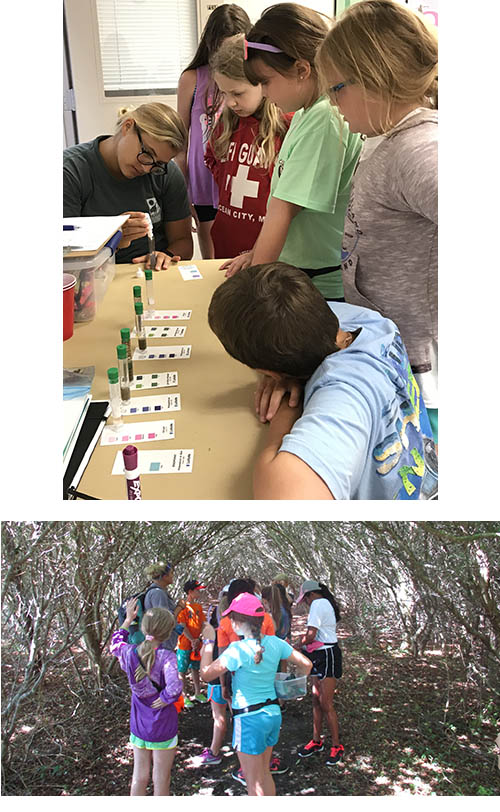 Are you ready for an exciting exploration of our local watershed? This summer, the energetic staff of the Maryland Coastal Bays Program will be leading hands-on, educational activities in and around our coastal bays. "Explorers" will participate in engaging, outdoor investigations that include critter sampling, STEM projects, watershed studies, kayaking, forestry, team-building exercises, and more. This camp offers at least one unique field trip to Ayers Creek where participants will kayak. Participants will receive a complimentary camp t-shirt.
Registration can be completed online or in-person at the Northside Park Main Office.
WHO: Students entering grades 5 & 6
DATES:
Section A: June 28 – July 1, 2022
Section B: July 26 – 29, 2022
Section C: August 22 – 25, 2022
DAYS: Tuesday – Friday
TIMES: 10:00 a.m. – 3:00 p.m.
LOCALE: Northside Park Recreation Complex
Check-in on Tuesday and Friday will take place outside the West Gym Entrance. If it's raining, check-in will take place just inside the West Gym Entrance. On Wednesday, camp and check-in will take place at Ayers Creek Adventures, on Thursday camp and check-in will take place at the Assateague Island Education Center (Look for camp leaders near the entrance).
PRICE: $142.00
*Ocean City resident discount price: $118.00
DEPOSIT: The appropriate deposit enrolls participant(s) with the balance due one week prior to the first day of camp. Resident Deposit $30, Non-Resident Deposit $40. Camp deposits are non-refundable.
CAMPER NOTES: Explorers should bring water shoes, a towel, sunglasses, a refillable water bottle, and sunscreen. A non-perishable lunch should be packed each day. The maximum number of participants is 12.