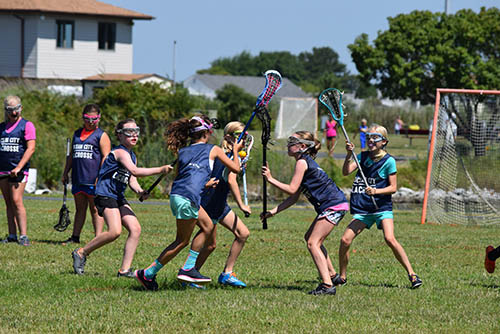 Basic game instruction, stick skills, ball handling, position instruction, and fundamentals are all covered. Scrimmages give participants actual game experience. Participants will receive a camp jersey.
Registration can be completed online or in person at the Northside Park Main Office.
WHO:
Girls, 6 to 16 years
DATES:
July 20 – 23, 2020
DAYS:
Monday – Thursday
TIMES:
10:00 a.m. – 3:00 p.m.
LOCALE:
Northside Park Soccer Field and West Lagoon Field
PRICE:
$159.00
*Ocean City resident discount price: $132.00
A 25% non-refundable deposit enrolls participant with the balance due on the first day of camp.
CAMPER NOTES:
Bring your own equipment, if possible, including a mouth guard. Indoor shoes are needed in case of inclement weather. Campers should bring a non-perishable lunch for the first three days; a pizza party will be held on the last day.