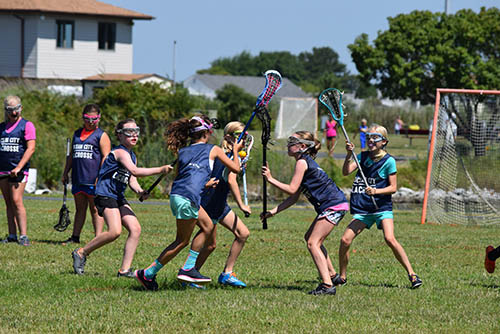 This four-day girl's lacrosse camp is led by Salisbury University's Head Women's Lacrosse Coach, Jim Nester. Camp promises to be both exciting and fun, and is designed to suit all abilities! Basic game instruction, stick skills, ball handling, and fundamentals are all covered, as well as specific position instruction. Scrimmages give participants actual game experience.
WHO: Girls, 6 to 16 years
DATES: July 15 – 18, 2019
DAYS: Monday – Thursday
TIMES: 10:00 a.m. – 3:00 p.m.
LOCALE: Northside Park Soccer Field and West Lagoon Field
PRICE: OC Residents $132.00/Non-Residents $159.00
A 25% non-refundable deposit enrolls participant with the balance due the first day of camp. Resident Deposit $33.25/Non-Resident Deposit $39.75
CAMP EXTRAS: Camp jersey, certificate of completion, and giveaways
CAMPER NOTES: Bring your own equipment, if possible, including a mouth guard. Indoor shoes are needed in case of inclement weather. Campers should bring a non-perishable lunch for the first three days; a pizza party will be held on the last day.