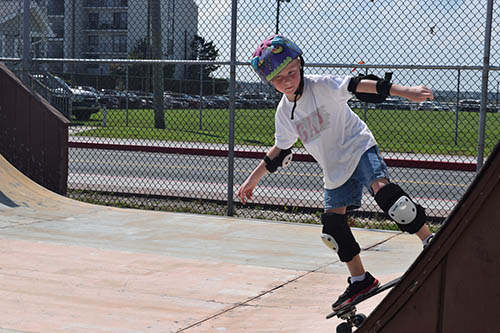 Want some help learning that next big trick? Come join us at Ocean City's famous Ocean Bowl Skate Camp this summer. This camp is for skaters of all ability levels, so whether you're just beginning or simply wanting to improve your skills, the Ocean Bowl Skate Park is the place to be.
WHO: Kids, 6 to 17 years
DATES: Section A: June 18 – 21
Section B: July 9 – 12
Section C: August 13 – 16
DAYS: Monday – Thursday
TIMES: 9:00 a.m. – 12:00 p.m.
LOCALE: Ocean Bowl Skate Park, 3rd Street & St. Louis Avenue
PRICE: OC Residents $130.00/Non-Residents $156.00
A 25% non-refundable deposit enrolls participant with the balance due the first day of camp. Resident Deposit $32.50/Non-Resident Deposit $39.00
CAMP EXTRAS: Camp T-shirt, certificate of completion, and giveaways
CAMPER NOTES: A pizza party will be held on the last day of camp. Safety equipment is required and available for rent.