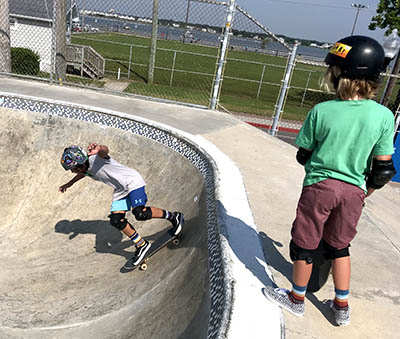 Per Governor Hogan's orders on May 29, 2020 on Youth Summer Camps only Maryland Residents are permitted in our camps at this time.
Come join professional skateboarder, Gary Smith and his experienced staff at Ocean City's famous Ocean Bowl Skate park this summer. Ocean Bowl Skate Camp is a camp for all ability levels, so whether you're just beginning or simply wanting to improve your skills, the Ocean Bowl Skate park is the place to be!
Registration can be completed online or in person at the Northside Park Main Office.
WHO:
Kids, 6 to 17 years
DATES:
Section A: June 22 – 25, 2020
Section B: July 13 – 16, 2020
Section C: August 17 – 20, 2020
DAYS:
Monday – Thursday
TIMES:
9:00 a.m. – 12:00 p.m.
LOCALE:
Ocean Bowl Skate Park, 3rd Street & St. Louis Avenue
PRICE:
$159.00
*Ocean City resident discount price: $132.00
A 25% non-refundable deposit enrolls participant with the balance due on the first day of camp.
CAMPER NOTES:
Safety equipment is required and available to borrow. Campers will receive a camp t-shirt and a certificate of completion.
Daily temperature checks  & Health Screening may take place at check in.  Parents are required to wear masks during drop off and pick up.  We'd prefer only one adult drop off/pick up at a time.  Children over the age of 9 are recommended to wear masks when feasible.  Social and physical distance measures will be in place.  A COVID19 related participation waiver will be required to be signed by the start of camp.