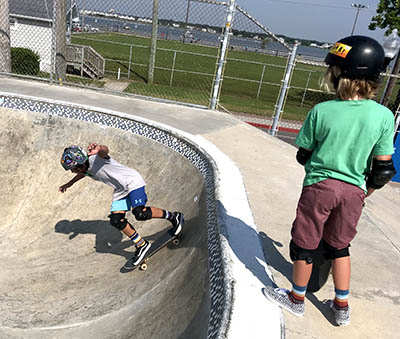 This camp is for skaters of all ability levels. Gary Smith from VU Skate Shop and his staff will be returning to help skaters learn how to skate Ocean Bowl by teaching skills and improving on existing skills all while having fun. Participants will receive a complimentary camp t-shirt.
Registration can be completed online or in person at the Northside Park Main Office.
WHO:
Kids, 6 to 17 years
DATES:
Section A: June 20 – 23, 2022
Section B: July 11 – 14, 2022
Section C: August 8 – 11, 2022
DAYS:
Monday – Thursday
TIMES:
9:00 a.m. – 12:00 p.m.
LOCALE:
Ocean Bowl Skate Park, 3rd Street & St. Louis Avenue
PRICE:
$161.00
*Ocean City resident discount price: $134.00
DEPOSIT:
The appropriate deposit enrolls participant(s) with the balance due one week prior to the first day of camp. Resident Deposit $30, Non-Resident Deposit $40. Camp deposits are non-refundable.
CAMP NOTES:
Campers need a skateboard (no longboards or penny boards), and safety equipment. Limited safety equipment is available to borrow.